Conversation Cards
These Conversation Cards can connect people to supports that are available, if needed. More supports can be found on Mental Health Ireland's website: www.mentalhealthireland.ie.
Download Conversation Card
Collect Printed Conversation Cards & Bookmarks from Participating Libraries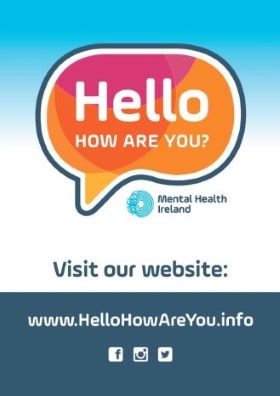 HELLO Steps
We have coproduced the HELLO Steps to support people to ask the question How Are You? Click Steps to view larger or click the 'Download' button below to download the Steps to use online, on websites or social media, or to print.
Download HELLO Steps
Digital Resources
Get those conversations going online and in the office by using our digital resources.
Printable Resources
(These are resources that people can either print at home or send to a printer)
Campaign Logo